Earlier SUVs were considered to be cars with excessive maintenance costs and so these cars were restricted to elite buyers only. However, these days, it is not a huge problem because you can get a low maintenance SUV Hyundai cars in India. Hyundai is already one of the most popular brands in India. In October 2020, Hyundai registered record sales of 56,605 units which are the highest sales record in a month of this Korean automobile brand in India. Overall, the unit sales have gone up almost 8.2% than the previous year so far. As the Hyundai users are talking about the low maintenance costs of the cars, buyers are showing confidence in this brand.
Low maintenance Hyundai SUVs
The compact SUVs are available at an affordable price in the Indian car market and therefore the demand for these cars has increased a lot.
Hyundai Venue
Hyundai made a grand entry in the SUV segment with Hyundai Venue that became an instant hit for the premium and practical features that it offers. The car is available with two options such a diesel engine and a petrol engine. The service costs range between INR 3700-7700 and INR 3000-6000 respectively.
The car received a lot of attention from the buyers because of the attractive design and complete features. This car was introduced as a rival to Tata Nexon and Maruti Brezza and Hyundai Venue car price is between INR 6.7 lakh to IR 11.39 lakh. This hot-selling SUV car is one of the most low-maintenance cars in India.
The venue has a lot of premium features such as a BlueLink connectivity system, sunroof, wireless charger, cruise control, infotainment system, 8-inch touchscreen, start-stop button, and many others. Both diesel engines and petrol engines have a 6-speed manual gearbox, but the petrol engine has a 5-speed manual gearbox.
Hyundai Tucson
It is a 5-seater SUV that has 13 kmpl mileage, a 1999 cc engine, automatic transmission, and power of 150BHP. The easily available maintenance and the quality of this car account for the low-maintenance of this car. The total cost of ownership of the car for 5 years shall be INR 20.69 lakhs. The service cost shall be INR 58, 050.
The Hyundai Tucson has an 8-inch infotainment system along with Apple CarPlay and Android Auto, panoramic sunroof, wireless charging, and electric parking brake. It has 18-inch alloy wheels, rain-sensing wipers, LED headlamps, and others. The safety features include six airbags, hill start assistance, and EDC or electronic stability control, and ABS with EBD.
Santro Car 2020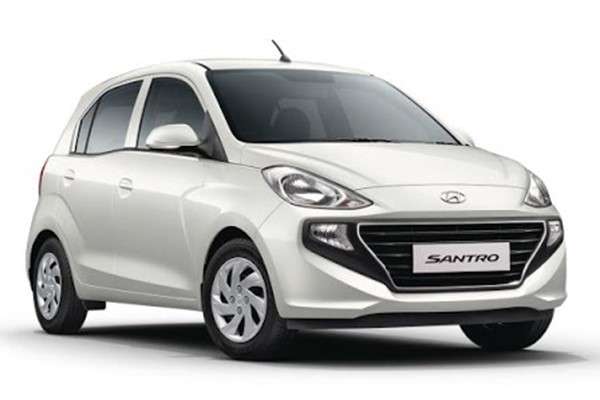 The Hyundai Santro offers additional interior space, comfortable seating, great interior finish, and a torque petrol engine. The new car model is a good product and priced well. The Santro has a 7-inch touch infotainment system. It comes with Android Auto, Apple CarPlay, and a Mirror-like smartphone connection. The touch sensitivity is good and the big screen makes things easy to navigate.
This car may be compact; however, it can be spacious. The knee room is adequate and the width makes this car is a good 5-seater. It has a familiar 4-cylinder engine. It is effortless to drive with the help of light controls. The gearbox is smooth, the clutch is light, and the steering wheels are very easy. The maintenance cost of this car is quite low.
Hyundai Creta
Hyundai Creta is a long-reigning car in the SUV segment. To refresh the appeal of the car to the buyers and to enforce the strength, Hyundai has given this car an upgrade. Hyundai Creta has options, viz.1.4-liter turbo petrol, 1.5 liters aspirated petrol and 1.5 lire diesel. Each engine has an automatic gearbox. This car is priced between INR 9.99 lakh to INR 17.2 lakhs. The maintenance cost of this car is low around INR 18,000 for the initial 5 years of buy.
Though purchasing an SUV is more expensive compared to a regular sedan or hatchback but there is nothing to feel insecure about because these are some of the Hyundai SUV cars that have a low maintenance cost. Contact Droom online for the details of these Hyundai cars along with the Hyundai car price list. This online platform is the right destination for buying all top brands of Hyundai cars including low maintenance SUVs.